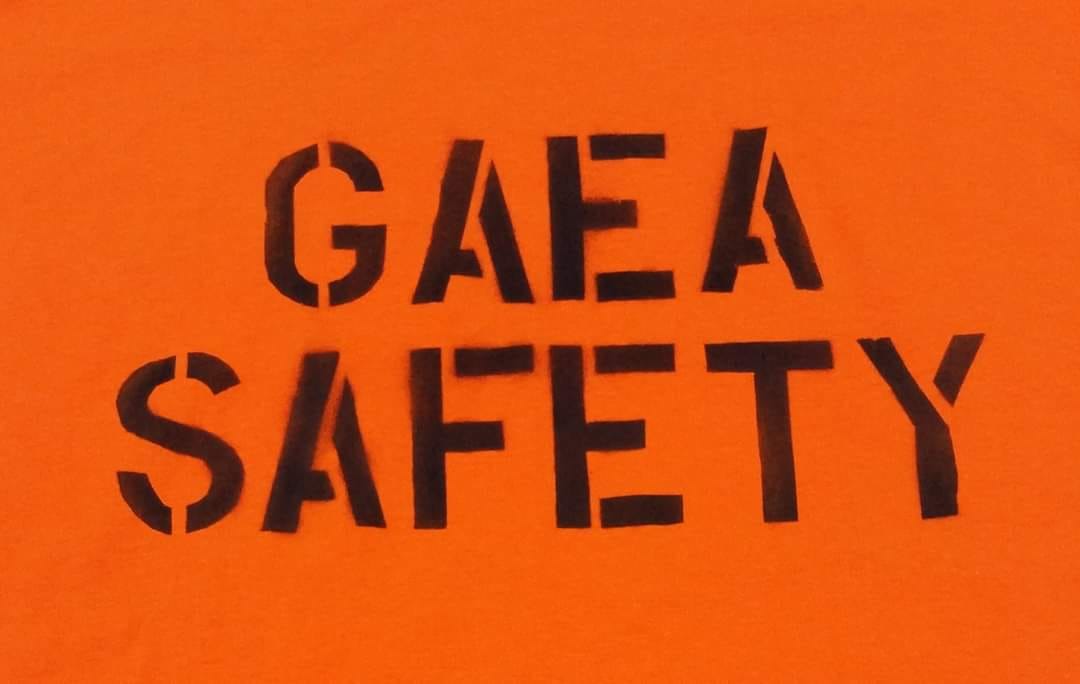 Gaea Safety
Volunteer groups at Gaea are at the core of the sustainability of the land. Since 2013, the Gaea Safety team has grown to help us keep the community and the land safe not only at festivals, but throughout the year. Over the last 6 years, we hope it has become easier to spot us at festivals – we wear green shirts at Earth Day and orange shirts at Laid Back, and often on most other weekends during the regular season (April – October).

During our festivals, you can find the main safety tent at the top of the stairs on the ridge near bardic, and there are always safety patrols throughout the grounds to assist. We're ready to help you and want to be welcoming and helpful. You can come to Safety for help with:

Medical needs – bites, sprains, scratches – we can help make sure you get stabilizing medical care as well as helping with regular, run-of-the-mill boo-boos. 
Safety concerns – If you feel unsafe, if you've seen or heard something that is concerning, you can approach any member of safety (we try to see what's going on, but festivals have a lot of people to try to safeguard, so bring things to our attention if you need help!) and we will help in any way we are able. 
Hydration – if you're feeling thirsty, please stop by. We want to make sure you don't get dehydrated. Don't forget to drink BEFORE you're thirsty! 
During non-festival times, if you see people wearing Gaea Safety shirts, they will also help you with those issues, or find a way to find you help. There is ALWAYS a radio at the caretaker cabin that will help you get in contact with someone who can help!

Some other issues to be aware of:

Intoxicants: Festivals are a place to have fun, but let's make sure it stays a good time. Overdoing it can lead to problems. As a reminder -Kansas law prohibits illegal drugs. At larger events, police sometimes are on property and if you are found in possession you may be arrested and could be prosecuted. If you are found with drugs at Gaea, you may be ejected.
Preparation: If you are coming to camp at Gaea, make sure you have the things you need – enough water, food, and a safe place to sleep with enough warmth.
Weather – Always be prepared for inclement weather; if at any time you feel insecure about what is happening, find a caretaker, a Gaea Safety member, or a Board Member and ask if you should take shelter. WHEN IN DOUBT, TAKE SHELTER.
Community Safety – As a community, we all have to watch out for each other. Be observant, give people safe places and company if someone is engaging in concerning behavior and most of all – if you are concerned, come to safety so that it can be handled. Safety is EVERYONE'S RESPONSIBILITY, and it is Safety's job to listen to any concerns and make sure they are appropriately dealt with.
Above all, we want to be your community, your friends, your allies. You don't just have to stop by to get help – stop by to say hi and visit!